Show Us Your Office
Tovegin Pty Limited's Office
Home Office Meets Home Theater Down Under
As featured it CNET's article series
We'd love to show off our office. We are in the process of just finishing off a major renovation. It's now over 12 months since commencement, 6 months since we moved back into the house and while it's everything we wanted it to be, we are still putting the finishing touches on it. To put it into perspective, we remind ourselves we have been in the house for more than 19 years and it took us 18 to START the renovations, so completing them won't happen overnight.

We have our own technology consulting and management company, Tovegin Pty Limited based in our home. So the renovations needed to convert the bedroom used as an office to a fully functional office.
What may not be evident in the photos that accompany the article is the hidden infrastructure that was include in the renovations. While the house may not have been knocked down, it was all but gutted. All electrical wiring was replaced, even to the extent of replacing the supply from the street, which was upgraded to 3 phase (used by the air conditioning and the home automation).
Given that the majority of the walls were being torn out, or at least the gyprock / dry wall was being torn off, the opportunity presented itself to wire the WHOLE house with Cat5e for data, including phone, RG6 for video distribution, a proprietary audio bus cable containing 40 screened internal cores (HAL) and simple nonpolarized two-wire bus (Vantage) for home automation control that can expand from it's current controlling of lighting and security.

What this allowed us to establish is a more or less integrated network and certainly a consolidation and control aspect we didn't previously have and now extensively enjoy.
Previously the room we now used as an office contained as many as 6 computers (3 laptops PCs, 2 desktop PCs and an old Digital VAXstation.) This has been consolidated into 1 desktop and two laptops. Refer to Appendix 1 for current computer configurations.
Over time we have accumulated a lot of devices and peripherals. Some we no longer use but are kept for compatibility, like a ZIP drive for the many ZIP disks we used to archive to. But we can easily focus on some key components that make our life MUCH easier.
Let's not forget looks as well. Our office furniture is both functional and attractive. But using hard floor chair mats allows our newly polished wood floor to show through without the damage of rolling office chairs.
The office really is a network of all the equipment and it's probably easiest to start by describing our connections to the outside world. The internet is provided by a OptusNet Cable Motorola modem that connects directly to our Netgear WGT624 router, providing essential firewall services, wireless base station and 4x 10/100 Ethernet ports. To extend the number of wired ports we have daisy chained a Netgear DS108 10/100 Mbps Dual Speed Hub.
| | |
| --- | --- |
| | |
Before we describe the exciting wireless part of the network or the PCs, we'll describe some other important components of the data network. While we have a Canon BJC-3000 with USB and parallel ports as a shared network printer, the requirement to have one PC always turned on to access the printer was too restrictive. So we now have a HP Officejet 7140xi chosen over other MFP units because of inbuilt network capabilities. Added benefits were the memory card slots (CompactFlash type 1 and 2, SmartMedia, Sony Memory Stick, Secure Digital) and a whole range of photo printing features, including index pages plus a nifty ability to select photos from the index page, scan the index back in and print only the selected photos. Or you can transfer the images to any of the PCs known to the printer.
Needless to say any of the PCs connected to the network and loaded with some HP software can use the HP print, scan or fax facility, with a very nice feature that allows the PC to display a copy of the LCD status screen of the HP Officejet 7140xi.

Makes it easy to know, especially when you and the PC are not in the same room, not just that there is an error (since software will report) but what the error is.

The HP comes with software to manage the unit from a web page and this same software allows you to scan from any PC with network access and e-mail the result.

We use the web management software extensively, but don't find a need for the scan to e-mail since we use scan to file or program as a preference.
Our Gateway G7-600 PIII (GP7 PIII 600 Mhz) may be almost 5 years old and has the inherent problems have having too much software loaded on it and still running Windows 98 SE, we consider it the workhorse of our business.

It runs our MYOB financial software.

A necessity in this day and age of GST (Goods and Services Tax), tax office and company law responsibility.

We started to use the Gateway as a file / backup server by adding an externally housed 120Gb Seagate Barracuda 7200.7 hard disk connected by USB 1.1 technology, but in a case that allows USB 2.0 and 1394 (Firewire) connectivity.

This allowed us to backup all the disks on the Gateway (and then some) and move the disk to any other system with similar interface.

This provides us with redundancy.

We typically share the password protected disk volumes on the Gateway with the other PCs on the network for more immediate access.
The Toshiba Satellite 5100 was actually a door prize to a PC show (you GOTTA win something sooner or later if you go to enough of these things) and is a wonderful laptop to have. It introduced us to Bluetooth (included) and with the addition of a MPC (mini PC Card) 802.1b 11Mbps wireless. We run Windows XP Home and Office XP.
And before anyone says "Why aren't you running the latest and greatest of all software?" you need to understand our business philosophy – We will upgrade to the latest and greatest where it makes sense, there are specific advantages and / or features and benefits, time permits, the risks are manageable and compatibility with clients can be maintained. The biggest problem spare capacity – being time or machine, to backup, install and de-install if anything doesn't work. Large corporates can afford duplicate machines and have manpower to spare. In a SOHO these are luxuries not often available.
We REALLY ENJOY wireless functionality. And interoperability isn't an issue if you take some care. While we may not get the maximum 108Mbps speed that our WGT624 is capable of when paired with a Netgear 108Mbps capable PC card, because we have a non-108Mbps MPC in the Toshiba, 11Mbps is fine when we take our Toshiba out into the family room to watch our 50" plasma screen and home theater or when the sun isn't too bright out on the deck under our glass enclosure by the pool. That's what working from home should be all about.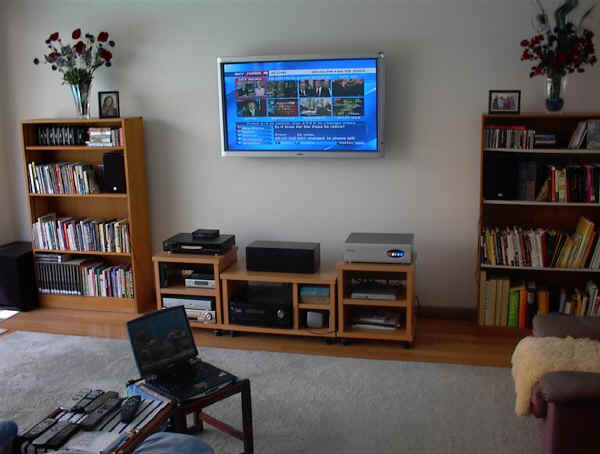 We can however be sidetracked by the home theater system, especially with our Netgear MP101 music player and internet radio. We connect wirelessly, but it can be wired. Any PC in our network with software loaded can act as a server, creating a database of all our music files that can be played and playlists manipulated at the MP101 and its remote control.
[Sorry we couldn't resist showing you another angle of the family room looking out onto the deck (and pool). And yes, we can take the laptop out there as well and still get good performance. Of course click on the picture to see a larger image.

]
But if we must confine ourselves to the office, we can still bring quality sound in. Once you have something like the HAL CC40 installed near the home theater system, you can install a local amp (RA-1) and speakers (IC-65) in the ceiling, control keypad (KP-1) (also in picture below) in the wall that uses an IR remote (RH-1) and control not only the volume but the source of the sound. In our case it is the Harman/Kardon DVD 30 player, and via the Integra DTR-7.4 receiver, just about any source connected to the Integra. This includes radio, both regular and internet (and yes this competes with the MP101 as a music player, but the MP101 software has been installed and the Integra PC software hasn't). And it also includes cable TV Foxtel, as well as our JVC HR-S5700AM VCR. The local amp (RA-1) has the capabilities for two local sources. This means we could feed the PC sound card and something else into the local amp. It would only be able to play in the office's in ceiling speakers. What is also pretty neat is that using IR re-transmitters (little IR sensors attached to the various home theater devices) we can use their respective remote controls in the office, quite a ways from the family room, to control the functions of the units in the family room!
Video transmission is possible and planned; we just don't have the TV video card in a PC.

Currently we can use a spare TV to get the video associated with any of the audio that has associated video.

We even get the two security cameras outside the front or side doors on the TV as well.

And yes we have electronic locks on the outside doors to let friends in remotely.

Door stations planned to be connected to the phone system (currently only connected to the security system) will allow this remote open capability.
Needless to say with all this "whole of house audio and video", we couldn't let the lighting be controlled by simple switches.

Using the Vantage system, we have a programmable light switch keypad.

Currently in the office the top one of the 4 gang switch controls the 4 down lights in the office (pressing and holding makes them dim or brighten), and the 2nd controls the hall.

(Buttons 3 and 4 are awaiting our pleasure!)
We make sure we backup the contents of our old HP C-200 1 megapixel camera. We never connected the cable to a PC. Just took the compact flash memory and copied it to either the Gateway using a SanDisk CompactFlash Reader or to the Toshiba using a Wiretek USB 6 in 1 card reader (UCR5A). And just so we have enough disk space a friend gave us a birthday present of a Maxtor Diamond Max Plus 9 (250GB) hard disk again installed in a STLab 3.5" HDD external case w/ 1394 (Firewire) and USB 2.0 connections to IDE.
Often we have clients or guests who bring their laptop. With ports well positioned throughout the house they choose whether to use wired or wireless to connect to our LAN and then use VPNs (Virtual Private Networks) to get into their home / corporate networks. We can even reconfigure the patch panel so any of the ports can be connected to the phone line to be used for dial up service.
When we travel, we have the ability to redirect calls to our cell phone, a tri-band Nokia 6230, allowing us use in pretty much every country.
We have plans for a state of the art phone system integrated with the network and VoIP (Voice over IP) capability.
Our plans are to integrate the phone system to the network and Outlook. When we install the Vantage IP Enabler we will have web based interface to our home automation allowing control of our house from anywhere in the world.
An interesting challenge will be the evaluation of the new Microsoft Windows XP Media Center Edition 2005. Claims of whole of automation control need to be tempered with the reality of existing equipment (home automation and PC) and the PC equipment needed to run the software.
We've enjoyed giving you this virtual tour of our office and thank you for your visit.

This document is really "work in progress" and only published as a submission for CNET's series.
Some additional sections have been included, but may not be complete The one on Computers, detailing the physical configurations (model, memory, disk(s) and peripherals) is pretty comprehensive. The one on Applications, detailing the various applications we run and where they are located on the other hand is very sketchy.
Overview
Gateway G7-600 PIII (GP7 PIII 600 Mhz) (s/n 01418685) purchased in July 2000 is the "server", hosting the Optus@Home Cable Network. Configuration as per purchase -
Intel Pentium III Processor 600Mhz

Universal Serial Bus Support

512K L2 Integrated Cache

Mid-Tower Case*

128MB SDRAM

| | |
| --- | --- |
| | 384MB SDRAM as at 19 Nov 2001 (see note in additions) |

1.44MB 3.5" Diskette Drive

10GB Ultra ATA Hard Drive

6 x DVD-CDROM Drive

Speakers

| | |
| --- | --- |
| | Boston Digital BA735 |

Soundcard

32MB Video Card

| | |
| --- | --- |
| | NVIDA RIVA TNT2 Model 64 |

17" Colour Monitor (upgraded to VX720)

1 AGP, 4 PCI & 1 shared PCI/ISA slot

Ports: 1 parallel, 2 serial, 1 PS/2 Keyboard, 1 PS/2 Mouse, 2 USB (1.1)

104+ Keyboard

MS PS/2 Intellimouse and Gateway Mouse Pad

MS Windows 98 (2nd Editionn)

56K V.90 Data/Fax/Voice Modem

Gateway Desktop Warranty

| | |
| --- | --- |
| | 3 Year (from July 2000 to July 2003) |



Added
2nd hard drive (D:) 30GB IBM

Adaptec AHA-2930CCCCU PCI SCSI controller

Via Digital Storage Expansion Box

| | |
| --- | --- |
| | DEC DSP3107LS - 1 GB - SCSI ID #2 |
| | DEC DSP3107LS - 1 GB - SCSI ID #4 |

Ricoh CD-R/RW MP8040SE - SCSI ID #5

| | |
| --- | --- |
| | Also used on laptops via provided SCSI PCMCIA |
| | 4x write, 4x rewrite, 20x read |
| | Easy CD Creator 3.5 Std & DirectCD 2.5 s/w |

Iomega ZIP 100 - SCSI ID # 6

Iomega ZIP 25 (USB)

Logitech QuickCam Pro 3000 (USB)

D-Link DFE-530TX 10/100 PCI Ethernet Adapter

| | |
| --- | --- |
| | Lifetime support |

Logitech PageScan Color Pro scanner (Parallel)

SanDisk ImageMate Compact Flash Reader/Writer ( 1 Sep 2001)

| | |
| --- | --- |
| | USB connection for Compact Flash (used in HP Camera) |

384MB SDRAM as at 19 Nov 2001 with the addition of 2x GW166AAP 128MB 100Mhz 168pin DIMM SDRAM

120GB Seagate 7200.7 HD

| | |
| --- | --- |
| | Installed in a STLab 3.5" HDD external case w/ 1394 (Firewire) and USB 2.0 connection to IDE |
The system is running W98 SW (4.10.2222 A)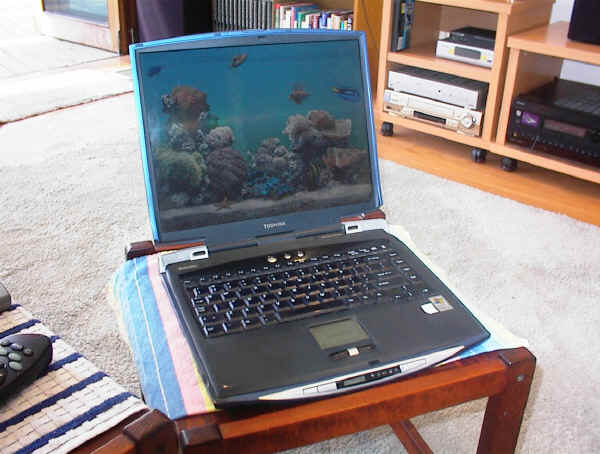 PALM M505 S/n 10PK15M17JJE, Registered online 2001AG08,
| | |
| --- | --- |
| | A$920 (RRP $999) HN Wiley Park; Slim leather cover A$50 (RRP $59) |
| | This Handheld PDA has 8Mb of memory. |
| | Added 16MB SanDisk MultiMediaCard ex USA 1 Sept, 2001 |
This system is running PALM OS V4.0

It can be said that our applications divide into two main categories, Portable and Desktop. Certain applications are primary to the Laptops (e-mail, etc) while others that aren't required to be used while traveling usually are left on one of the Desktops.
On Achieve, efforts were made to install all applications that could be on the D drive.
This came as part of the installation software for the Logitech PageScan Color scanner. Upgrades were frozen for a time while PaperMaster's owners (DocuMagix) determined its status after a merge with eFax.
Purchase (as part of hardware)

| | |
| --- | --- |
| | |
| | |
| | |
| | |
| | |
| | |
| | |
| | |
| | Appendix 1 – Installed Computers. 6 |
| | Appendix 2 – Current major Applications. 8 |

Created 23 February, 2005, last updated - 23 February, 2005